Search Engine Marketing – Adwords Management
Search engine marketing (SEM) is a part of the internet marketing strategies, to increase the visibility of a website in search engine results pages by using Google Adwords
While the adwords marketing industry term once referred to both organic search activities such as SEO and paid, it now refers almost exclusively to pay per click advertising.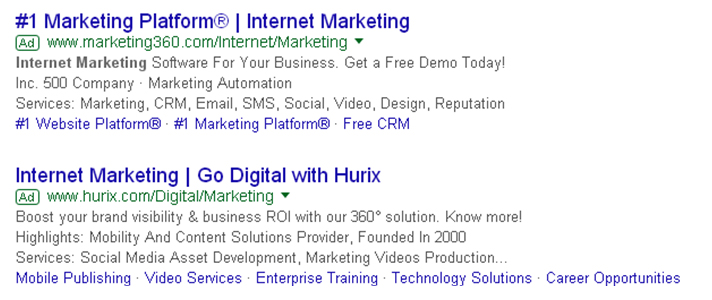 Visual examples thousand times better than words - refer following image, for example go to Google search engine and search for "adwords marketing" you will find organic search results and two or three paid search results as well visible with word AD color in green with a small box before URL (some time paid ad results may not be visible for above mentioned keywords you can try any keywords as you like).
When we meet every new clients we spend 80% of our meeting time to explain about the possibilities of Search engine marketing (SEM), adwords marketing and how to identify their potential keywords for website marketing instead of convincing them to sell our Search engine marketing / Adwords management packages, for a our business conversion we strongly believe in educating our clients than convincing them for adwords marketing, when they get educated about search engine marketing and identified potential keywords through real time data from Google Adwords our job become easier now to convert our visitor into our Search Engine Marketing client, mean while our website SEO audit team come up with deep analyzes of our visitors website and provide SEO audit reports immediately along with improvements suggestion like how to get improve website visitor conversion rate using our user enjoyment methodology, with time line to fix all website 508 compliance.
Hire our expert to manage your Google Adwords Marketing.
Search engines drive 93% of all website traffic - try to be visible there by organic or paid to grow your business
Why Search Engine Marketing – Adwords Marketing is Important for Business?
With an increasing number of consumers searching in Google search engine to find services or products online, search engine marketing has become a crucial business strategy for increasing website visitors.
Majority of new visitors find our websites through a search engine.
Search engine marketing reaches consumers at exactly when they required, that's how the conversion ratio is very high in Search engine marketing than other typical adverting mythologies. Search engine marketing is fastest way to drive traffic to a website immediately.
How pay per click works?
Search engines use complicated algorithms to make sure the most relevant results for each search, including location and other available information.
In paid search advertising (pay per click), sponsored ads appear at the top and bottom of search engine results pages to get more visibility and prominence than the organic results.
In your search results page, you will come across various company ads whose keywords match the keywords in your search.
Let's take a look at how Search engine marketing works from the marketer's perspective. Once a marketer selects a search engine network, he or she can get a campaign up within a short span of time. Here you may require a Search engine marketing experts or a PPC agency to optimize your campaigns for good ROI.
When setting up a campaign in Google Adwords, the marketer is prompted to:
Select a set of potential keywords to their website or landing page;
Select a geographic location limitation for the ad to be run within;
Create an attractive ad copy within limited characters, to display in the search results;
Here is the main challenge, your ad copy should grab your customer's attention, in ad copy there are plenty of strategies involved, only Search engine marketing experts can identify which strategy will suit for a particular ad campaign, to avoid such click loss, consult a Pay per click experts for bid price – cost per click on their ad, before your ads go on live.
Search engine marketing is considered as the most efficient as well as economic way to promote your business in this digital era.
Since you are already making an investment in search engine marketing to bring traffic to your website, it is a worthwhile effort to optimize that traffic for conversions and increase the efficiency of your spending.
Optimizing your landing page can increase your Quality Score with search engine marketing networks, thus reducing your average cost per click-cpc.
Popularity of internet marketing
People heard internet marketing terms by the word of mouth from tech peoples like Search Engine Marketing experts " Google Adwords managements, PPC ads, pay per click, PPC advertising, and PPC marketing " they wanted to know more about internet marketing methods, they search for "google add words" instead of Google Adwords in Google search engine, it was searched more than 100000 like this in last 30 days, good to know more SME entrepreneurs are start searching for online marketing / digital marketing now a days to promote their online and offline ventures,  now the most of the SME entrepreneurs are aware of Google Adwords, impact of Google promotions on PPC- pay per click advertising in Google my business, due to this most of the shopkeepers start talking about the internet marketing terms like google adwords, pay per click (PPC), online advertising and digital marketing.
Outsource your client's online marketing requirements; we have custom Search Engine Marketing packages at affordable price for SMEs.